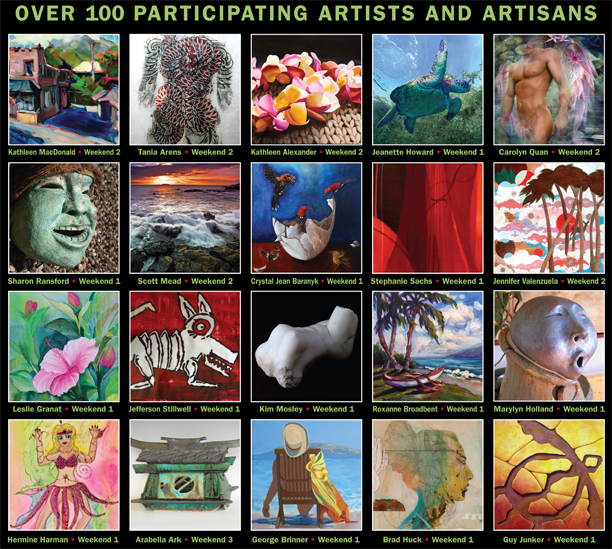 Artists and Artisans:
• • • • • • • • • • • • • • • • • • • • • • • • • • • • • • • • • • • • • • • • • • • • • • • • • • • • • • • • • • • • • • • • • • • • • • • • • • • • • • • • • • • • • • • • •
Art and Craft Buyers and Fine Art Collectors:
Meet the artists in person in their studios, galleries and creative exhibition spaces!

This entire event is free to the public! Whether you are a Maui resident or a visitor, you will be treated to three great weekends of inspiration and art and have the opportunity to buy artwork directly from the artists themselves. Please join us on both weekends and support the arts and the artists!
• • • • • • • • • • • • • • • • • • • • • • • • • • • • • • • • • • • • • • • • • • • • • • • • • • • • • • • • • • • • • • • • • • • • • • • • • • • • • • • • • • • • • • • • •
Weekend 1 Artists • Weekend 2 Artists • Weekend 3 Artists • Artists unassigned to a weekend at this time
About the Event • Opening/Preview • Guidebook • How To Participate • Artist Registration •
Want to be a Sponsor? • Thanks to our Sponsors • Press • Contact • Home
© 2010 Dream World Media. All rights reserved.